I had a reasonably long list of things I wanted to get done this week. I need to redefine reasonable. I probably should also keep a list of what I do manage to get done. It doesn't seem like I accomplished anything, but I did get some things crossed off the list.
I managed to walk on the treadmill two days this week. Plus, running errands yesterday racked up more steps than the treadmill. So I got my minimum three days (so far).
One rosebush was repotted. It required separating its roots from a holly bush's roots. Both survived and my sister got the holly bush. (This left me aching dearly the next day, which is why I didn't go to the treadmill that day.)
The whole yard/garden got a good watering. (Not the lawn.) I've also kept the porch and deck plants watered. That doesn't sound like a big deal, but it's so easy to forget to water them when my life has no routine.
Two things on my list: I got the sun sail shortened and I got it up!

The first required a fight with sewing machines. My inexpensive Kenmore (Pfaff) worked soooooo much better than the uber-expensive Husqvarna and got three seams done right in the same time it took the Husqvarna to bend two and break one needle and not do the stitch right. (Although it was set for vinyl, the feed dogs were not moving it right.) Apparently simple sewing prefers simple machines. I'll save the Husqvarna for the embroidery.
For the second, I ditched the traditional hardware and got four heavy springs. It made hanging the sail a breeze. I maybe could have shortened it another inch or two, but it's totally acceptable. It looks good and will keep the deck relatively cool, which still gets enough sun for the tomatoes.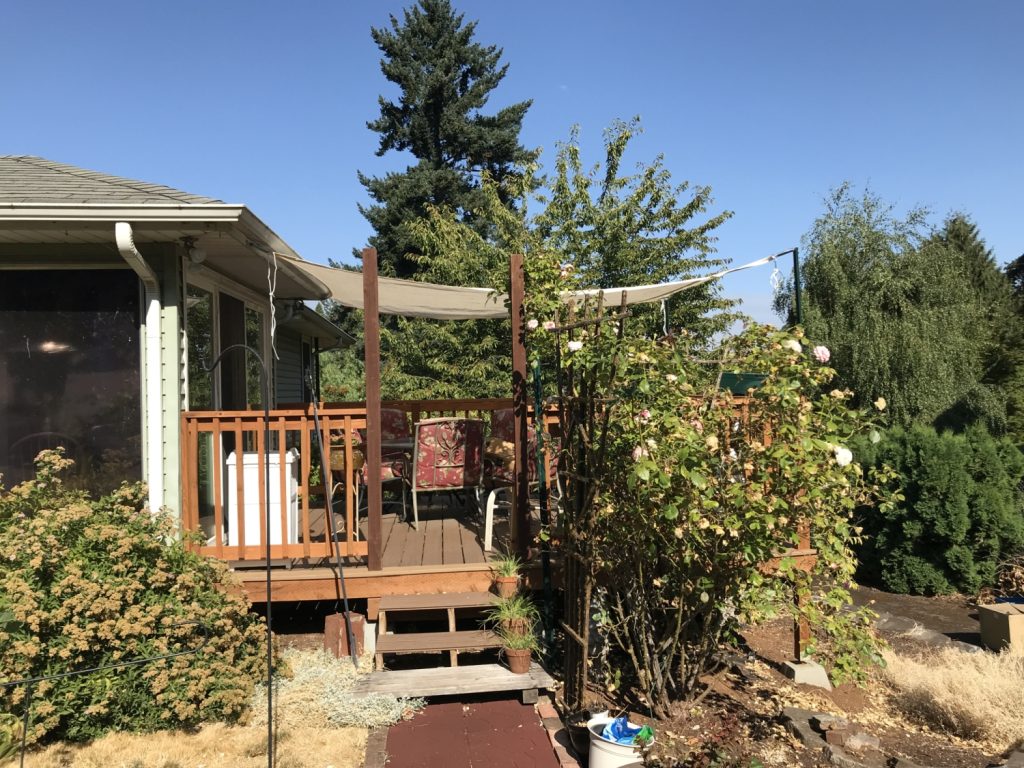 The stove and oven got cleaned. The oven is no big deal other than remembering to do it at night because it gets so HOT! (700°) The top required elbow grease. How a stove that's rarely used can get so dirty boggles me. I suspect that it has to do with Iqbal's lack of understanding of preventative maintenance cleaning. I don't complain because he's washed the dishes for me for forty-nine years (!!!!), but, if he doesn't see anything on the stove or counter that needs to be wiped, it doesn't get wiped. His vision it not as good as it was back in the day, either. Of course, nothing was obvious until I boiled some water the other day. Anyway, a grease cutting cleaner, a little baking soda, and plenty of elbow grease and my stove now gleams.
Filing. There's always filing. It's what I do when I'm too tired or hurt too much to do anything physical, when I'm totally distracted or it's too noisy to read. This is my humongous machine embroidery and graphics collections. It's never ending because there are always new items to be filed. I get behind in one collection when I'm catching up on the other. Plus, inbox filing. I need to keep my inbox cleared out and I get too much, but some of it needs to be read before I save or toss it. Reading takes time and being online gets distracting . . . ie: I end up reading more than I planned. Or, if I get sent to YouTube for something legitimate, also end up watching cat videos.🙄 (I sometimes think the internet was designed by people with ADHD. It certainly was not designed to help with ADHD distractions!)
I'm not sure what'll get done today. There are still plenty of items on the list. Hmm . . . Maybe fix the bathroom cabinet door, which is becoming unhinged.
I hope that before the end of summer I get the garden wall (2nd picture) built up two levels and filled with good garden soil. Bricks are heavy. I may end up paying someone else to do it. There's a small section in the the back that I'd also like to get done before winter. The dirt is washing away from under my ferns. The whole section next to the back sidewalk towards my spa patio needs to be three or four bricks (somewhat smaller than the bricks on the deck garden wall) high. That'll save my ferns and also I'll be able to move the ferns in front (which get way too much sun) next to the ones in back.

I don't know if I'll be posting any more regularly, but I'm going to try to keep track of what I'm doing–the boring along with the fun, interesting stuff–so that I have a record I can look at to remind me I did do something.