I'm just an ordinary person who is an artist at heart. My attention span goes in cycles.
Mostly I'll be posting about hand and machine embroidery, quilting, and playing with GIMP. I'll probably have some book reports (because I'm not particularly good at reviews) and perhaps an occasional short story or poem. Sometimes I get philosophical. But, I may post everything not thread and fabric, paper and paint etc., or GIMP on separate pages and maybe link them here.
This blog is new, but the rest of the website is old and dusty. If website creation cycles back into my interests, I'll update it. Or, if I discover a new direction for it, I'll revamp it. Right now, it's on or near the bottom of my very long To Do list
I don't generally share a lot of information online, but for the curious:
I'm a woman nearing the end of my seventh decade. I have a wonderful and adoring "young" husband at the end of his ninth decade (!!!) .
My adult son decided to return to school last year and is currently working on his masters degree in movies (I forget the proper title of the degree) and will continue 'til he has a doctorate. He wants to be a movie archivist, which definitely sounds more fun than being a safety equipment maintenance manager, which is what he was doing.
I have two adorable granddaughters, who I don't see often enough, although they aren't too far away, and seven adult (OMG!! they all are adults now!) grandchildren in Canada who I sadly don't know very well.
We moved to Oregon when my husband retired to be near my family (my sister was already here and mom moved in with us). My elder brother just arrived in Oregon. My other brother has too much family in Pennsylvania ever to leave there.
I plan to live to be 123 years old, though I'm fully aware that it might not happen. Since I was very little I always "knew" I would live to be 100. A few years ago the 123 just came to me out of the blue. We'll see. I need to get back into shape whether I live that long or not.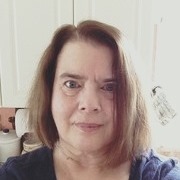 This is more or less what I look like. It's my most recent photo (and FB profile pic). My hair's longer again.