It Was a Dark and Stormy Day
It Was a Dark and Stormy Day
Not today. The sun is out today. Yesterday the rain poured down and, off and on all week, it's been grim and cloudy. Since I am most definitely solar powered, that means my energy level hovered around "0" and I didn't get much done.
😢 Timbers made it to the playoffs, but, alas, did not win. They played in that pouring rain. They made an exciting goal in the final 15 seconds to tie the game, but it ended up with penalty kicks and NYC's goalkeeper was remarkable.
Did I mention that I'm solar powered? All I managed to do this week was puttery chores, and not even as many as I would have liked. Mostly I just wanted to sleep, but not really because I was tired. That's the downside of SAD. It's hibernation season. At the same time, I'm glad for the rain, even though it's still not enough to end the drought in the state.
One of the little puttery things I managed, was to almost finish my little chicks.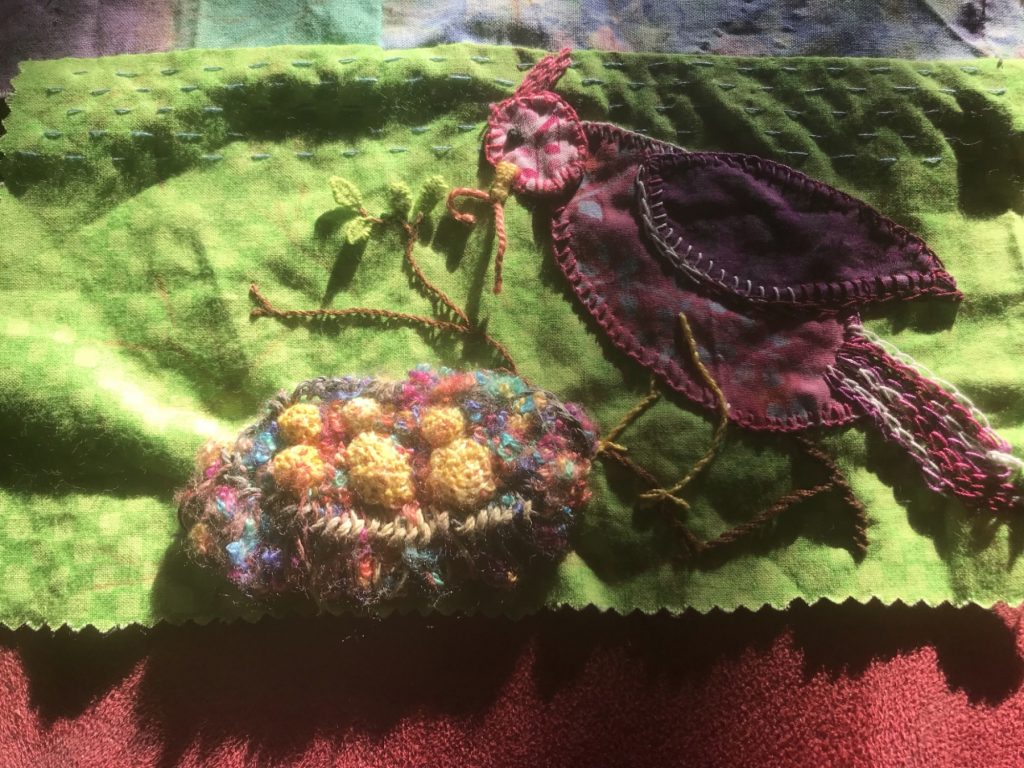 At least they no longer look like their guts are spilling out, as two do in the previous post. I was going to weave the beaks, but that boucle keeps getting caught in it and messes it up. I took it out twice. My next thought is to use very narrow ribbon bits as beaks. They want that worm!
I also drew in more of the tree. I started to stitch it but pulled it out. I want to redo Mama Bird so that she is a bit more dimensional. At first, I thought that would involve only stuffing her from the back, but the stitching around her wing and the top of her leg needs to come out. I've never liked the tail feathers, so I'll also redo those. And since she's so close to the right edge, I'm thinking of adding a brown rectangle topped by a blue or green one to that edge. That would give more space to make her tail feathers better and provide a background for the tree trunk.
A little what-iffing: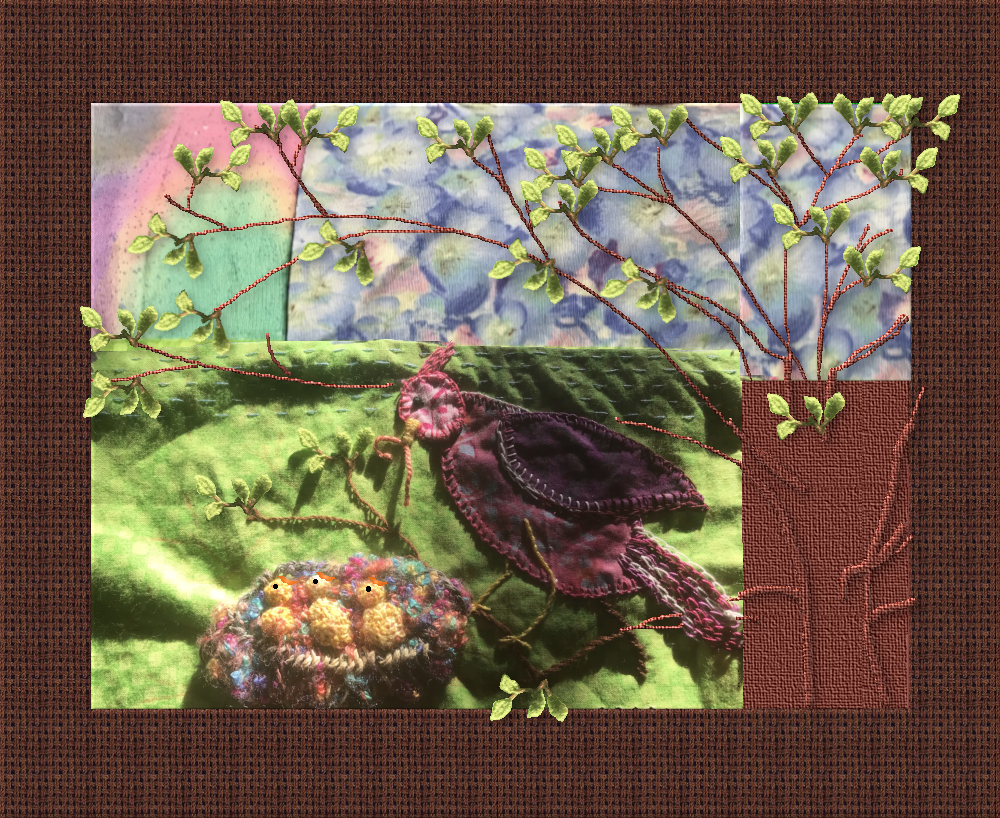 I don't know what's causing the shadows above and below Mama Bird. The sun was low, but it isn't that. Mama is not that raised and, anyway, you can see the shadow she makes. It doesn't seem to be the fabric folded or puffed and indented. That's what it must be, though. The fabric is an evenly colored check and there is nothing that dark on it. Weird.
Anyway, I love playing around with pictures. I'm not sure I'm looking forward to weaving all those (over 100!) leaves. But then, I am. Of course, this isn't exactly how it will turn out.
I like the look of the brown burlap as the background. I don't have any and I doubt I have anything similar. 95% of my fabric stash is from my sister and she practically never had any brown. Although, if she did have any, I probably have it now, 'cause she got rid of everything she didn't like. I might get some. I might find something else I like in what I already have.
My brown patch will probably be patterned. I don't think I have any solid brown. I have very little solid any color. I'm picturing a medium brown with a tan viny design, but I don't think I have any more of that. The patch above the brown will not be the same as what's already there. I may end up using a green, or blue and green, maybe some leafy design, maybe a partial circle patch.
I used the canvas filter on the computer painted brown patch to make it seem more cloth like, and used canvas, drop shadow, and bevel on the branches to simulate stitching. The drop shadow is not as strong as the real shadows (and is also the opposite side). For all the additional leaves, I just copied the ones already there, then stamped them and added a drop shadow.
I wish I could focus and stitch as easily and as fast as making this picture. I'm pretty sure the four actual stitched leaves took a couple of hours, although that may have included the branches and maybe even part of the bird. I don't keep track, but I think total time on the whole four patch was four or five evenings.
Iqbal tells me not to change the bird. Now I'm debating with myself about it.