Charms, Beads and Buttons
Charms, Beads and Buttons
My sister, Debie, makes jewelry and, once the pandemic clears sufficiently, will be offering bead therapy classes. Bead therapy came about because one of her friends so enjoyed playing with the beads as she chose the beads and helped my sister design the jewelry she was making for her.
I don't need bead therapy classes though, because Debie shares everything with me. She always gets more than she needs. Occasionally, she'll even get some specifically to give me. She has given me so much! I have a lot of beads. Some I even bought myself. I have way more than a lot of the metallic "charms" (I'm not sure if that's what they're officially called). Most of the charms are in one of two places. the smaller collection is sorted. Not the larger. The beads, unfortunately, are tucked away here and there.
Today after spending too much time looking for, and not finding some specific beads, I decided to put all the charms together and sort them all, and to put all the beads into little drawers in a shop cabinet. They'll be sorted by color and shape, and if there are enough drawers, also by size. The drawers have dividers, so that's not as important. I hope to do that starting this week. Later, I'll sort the charms, but I'll need some larger containers because they're larger than the beads. I may just use baggies.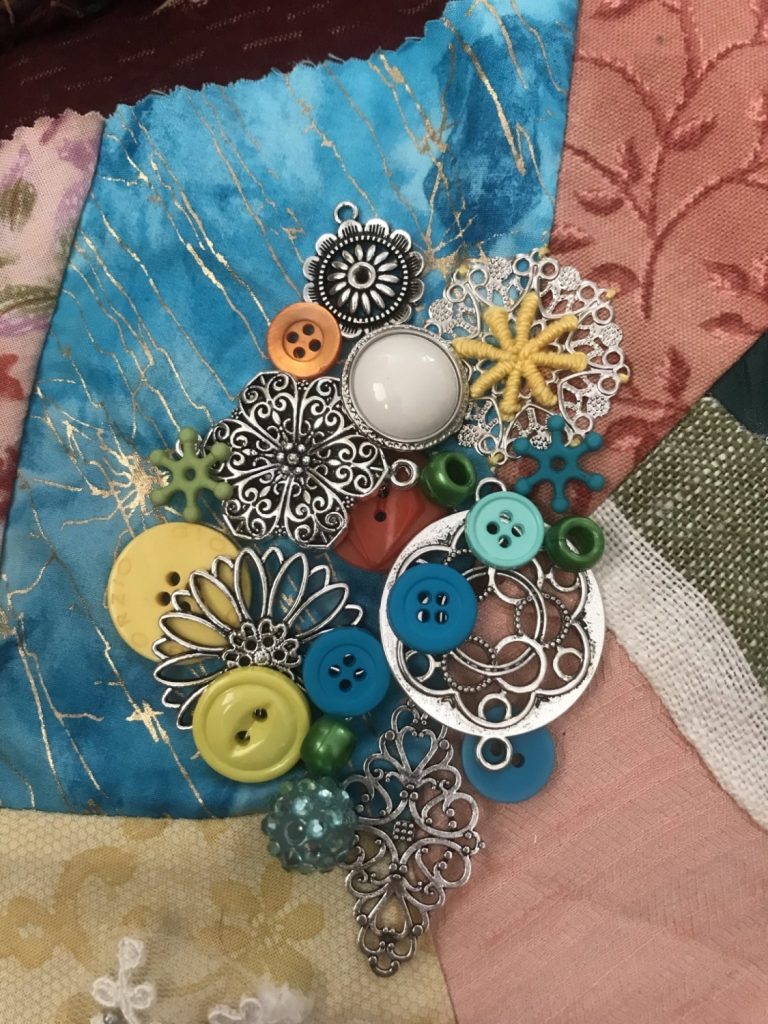 Here I'm just playing with some of the charms, beads and buttons. Only the one with the bullion stitches is actually attached. My buttons are very ordinary, for the most part, and I didn't find the beads I was looking for. This looks like I just threw them there. I don't intend to stitch it down this way. I probably need not to use so many large floral circles. I found some metal buttons in the charms that may look much better.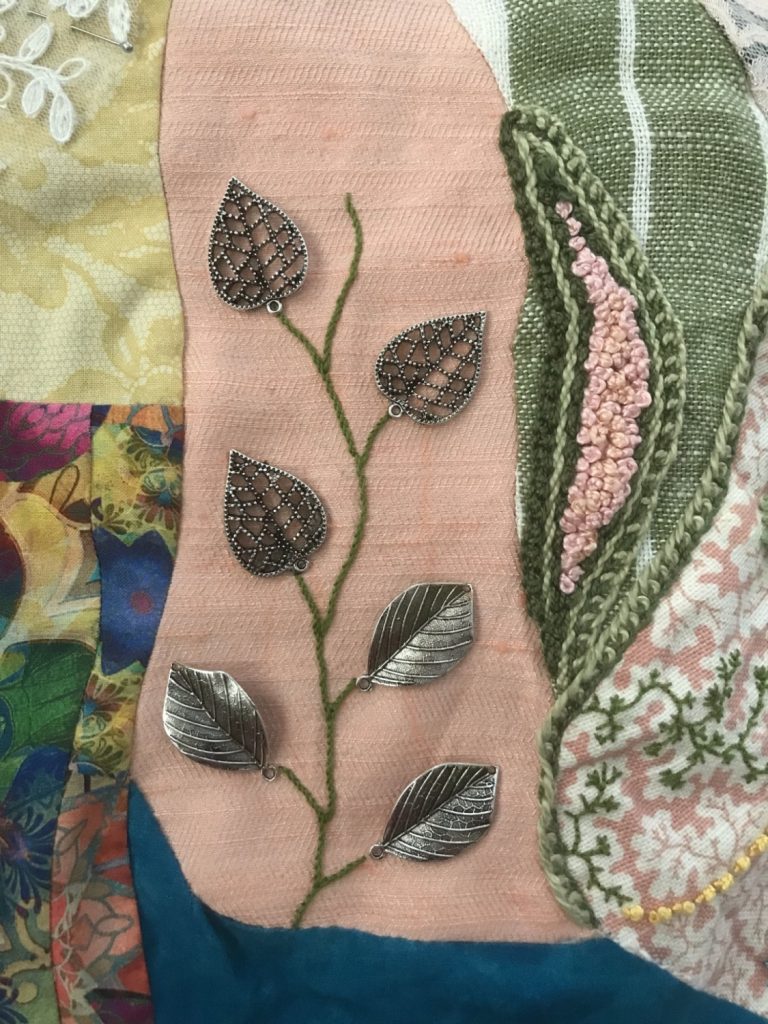 This one works much better. At first I had some long leaves, but they are almost the same exact shape as my stitched leaf, and not a whole lot smaller. While I like the idea of repetition, it didn't look right here, I love how these leaves look. One of the large flower charms might look good here, but I think not a solid one. I'd like to add stitches. They aren't stitched down yet. I'm trying to save all the hard stuff 'til the end, so threads don't keep getting caught. But it's a 50-50 battle with the impatience of thread catching and the impatience of not doing it now. And it seems I'm always fighting with the nylon, rayon and metallic threads anyway.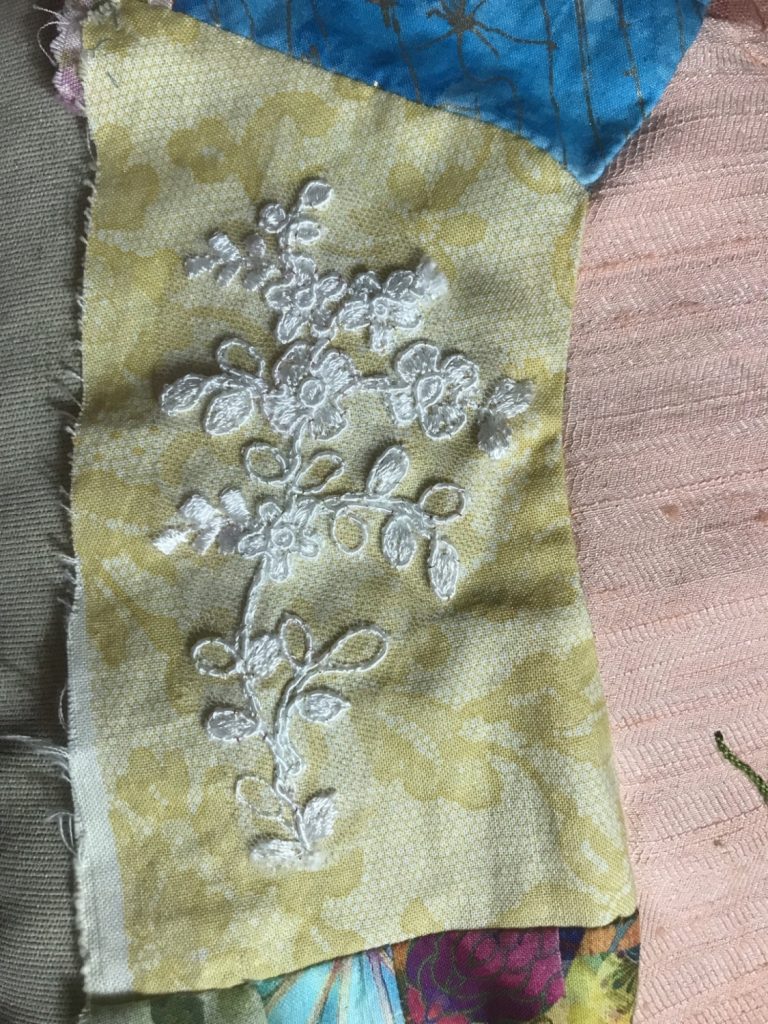 I got this one stitched down. I think it needs some tiny pearls. If I don't have any of those, maybe some tiny coral and turquoise beads. Another thought, instead of beads, maybe some echo stitching.

As I was stitching this and the stems in the photo above, I though of what Jude had said about quilting one stitch at a time. I think that's what I like about embroidery, too. Can't do more than one embroidery stitch at a time, except running stitch, and for many it's not even one stitch at a time. It's multiple steps to make one stitch. One step at a time.

Iqbal was watching me work on this this afternoon and said I was putting a lot into this to make it a masterpiece. Such a sweetie! I told him it was because I'm making it for him, since he keeps asking for my stitch tags. I don't think it's a masterpiece, though. More like a puzzle. At this point I don't even particularly like it, but that's a normal part of the process for me. The actual work never quite lives up to my original idea. It takes a while to adjust and see it for what it is rather than what it isn't.