Tuesday's Stitching …
Tuesday's Stitching …
And unstitching.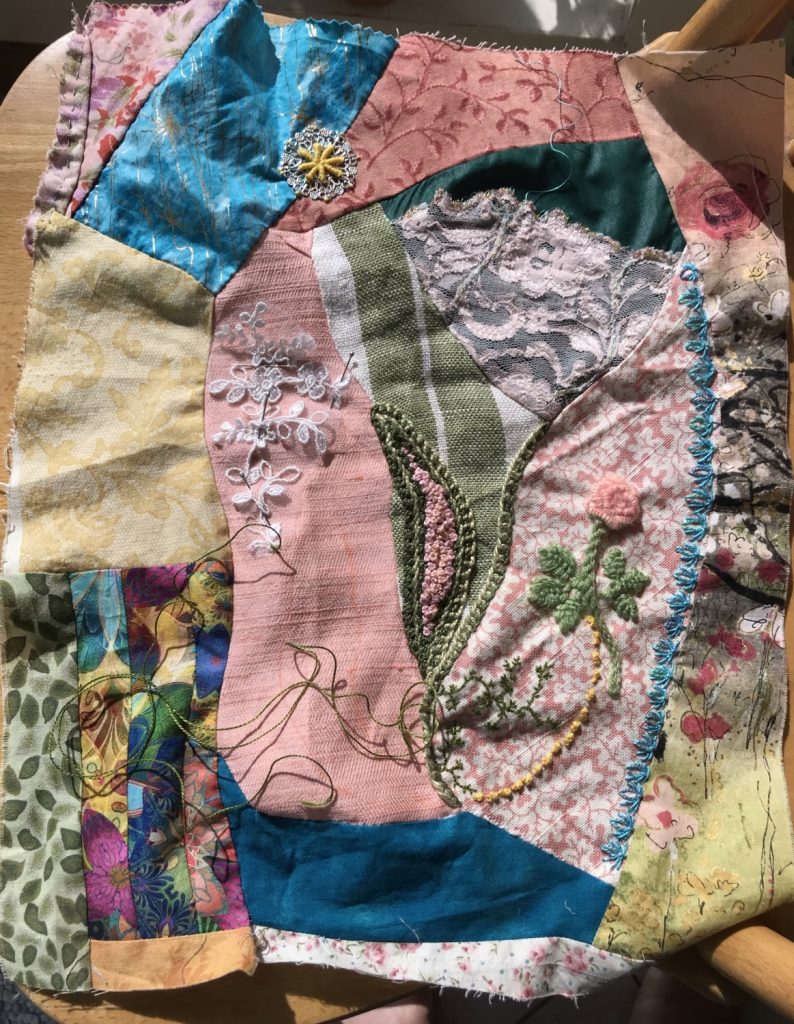 The white lace just wasn't working at the bottom of that patch. That was my unstitching. I may end up putting in on the yellow patch.
After much debate about which stitch to use on the right, I decided on this week's Beyond TAST stitch — Tulip stitch. I used a variegated teal/turquoise perle 5 for the detached chain part and a brighter turquoise crochet thread (compares with perle 8) that has a thread of tinsel wrapped around it, and matches the fabric on the left, for the arms. I'm really happy with stitch and thread choice. It looks much better than the triangles I was thinking of doing.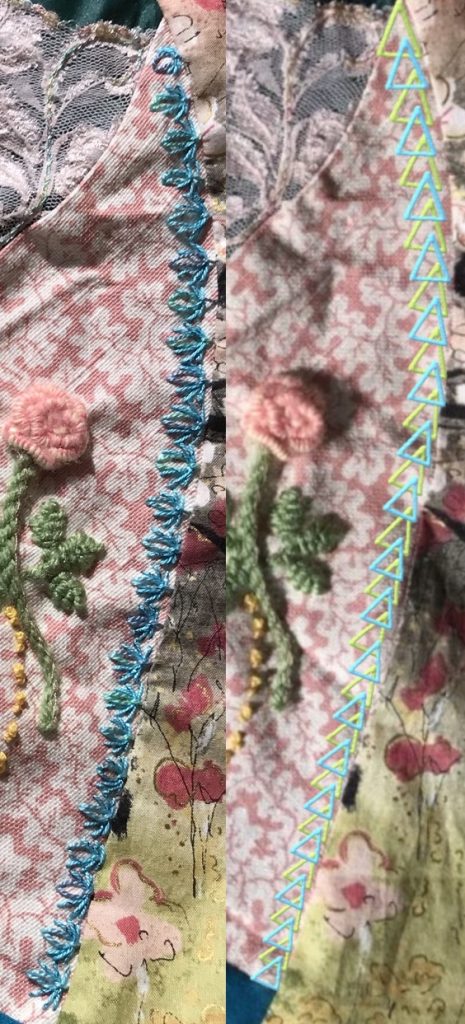 I may or may not add a bead above or inside the chain loop. Still thinking on that.
I also laced the metallic chain stitch on the pink lace with a lighter turquoise (unlabeled) thread. It's still subtle, but doesn't blend into the lace as much as the metallic alone. (Apparently I forgot to pull the end through the back and trim it, as it's still there in the photo.)
The loose green thread under the white lace is where I started to do something and then didn't like how it didn't work with the lace.
Having started this so randomly is proving to be a challenge. It seems to me that the focal point is currently the leaf with the pink French knot center . . . competing with the pink bullion rose. I have lots of metal designs, beads and some buttons I want to see if I can use. The metal circle at the top may end up as part of a cluster. It also looks like most embellishments will be floral related or floral like. . . . We'll see.

Today I spent the afternoon canning my pear sauce. Unfortunately the lids were not very good and most of them buckled. That means I have to spend another afternoon re-canning them with decent lids. The sauce doesn't have added sugar and only a bit of lemon juice, so I'm sure it will spoil without a decent seal. Fortunately it will keep long enough to re-can and won't be ruined by reheating.
Next I start slicing and drying the rest of the pears. That will be in stages because they are not all ripe.
No other harvest this year, except an occasional sprig of basil that I just hang up to dry. If I do any other canning, drying , or freezing, it'll be purchased produce. Frankly, I'm not inclined to buy that much at once. So mainly, for the rest of this year, the most I'll be doing is freezing extra soups, sauces and casseroles.