More Puttering
More Puttering
Dear Brother and Nephew hung cupboards, replaced dryer vent piping, and removed door. YAY!!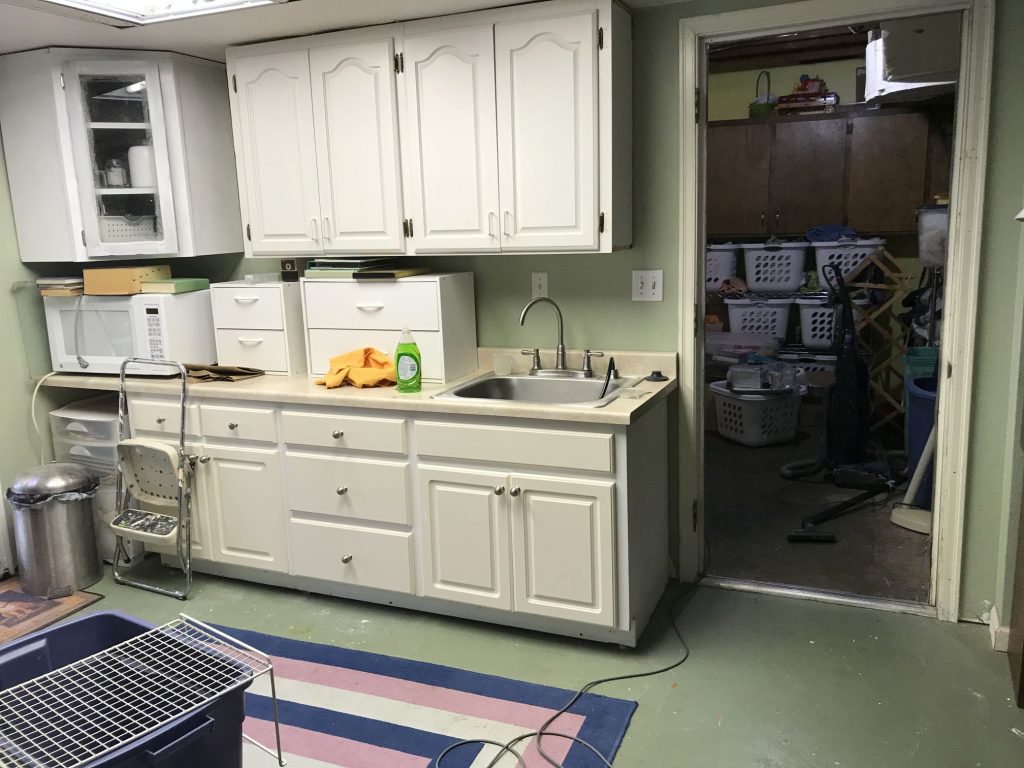 Not having the dark "wall" (door) right next to the sink opens and lightens the room so nicely. The microwave is defunct, so it will be moved out. (I don't need one here anyway.) I'll move the drawers down to that end. Still need to paint the corner cupboard and touch up the ends of the "new" cupboards. My art paints are now in the left side of the new cupboards, so they are convenient to my art desk (just to the left of this photo), which I've actually started using again.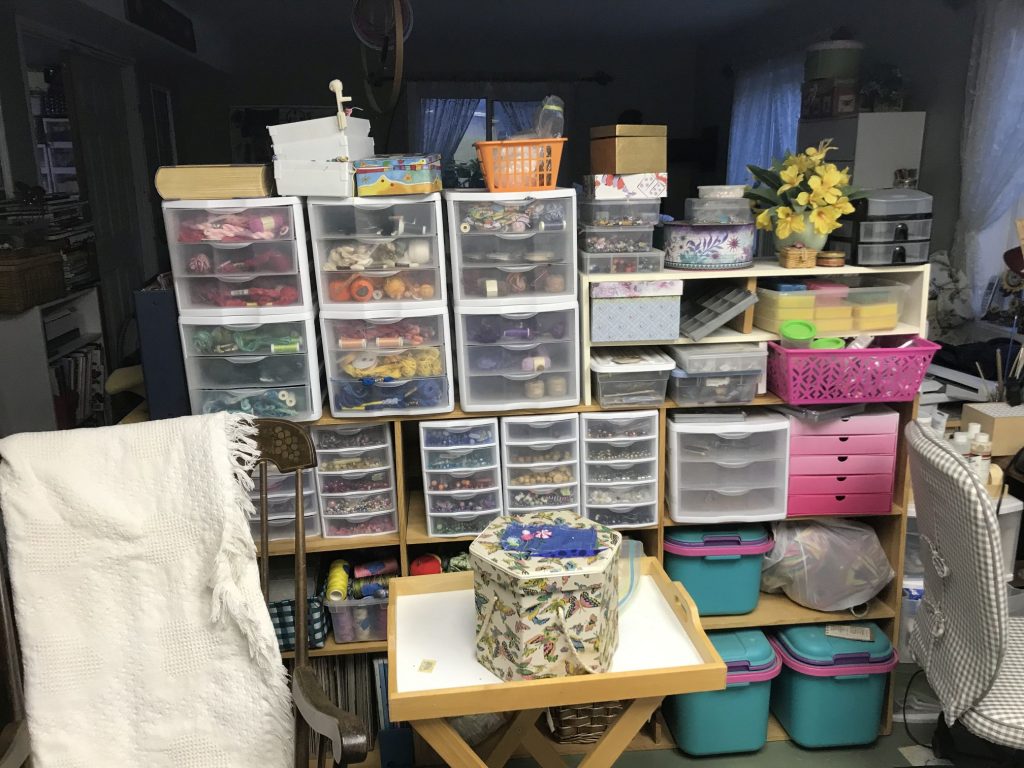 This is opposite the sink. Still needs some work, but now I have a place to hand stitch! I have put all my threads into the 18 drawers on top. Buttons and beads are in the smaller drawers. Small fabric scraps are in the butterfly box. There's a footstool for the rocker so I can keep my feet up when I need to. The checkered chair with the bows is the art desk chair. The dark space beyond is where the machines and cutting table are–still in need of much cleaning. This section is still not completely organized, but it is functional. Also, getting things organized here means the living room is tidier.
The cleaning and tidying is ongoing. The laundry room has been cleaned and messed repeatedly as a result. Not quite sure why, but as long as it ends up cleaned, that's fine. The cutting and machine area still has too much "stuff" in it. The storage room is getting there, but also has too much. Getting rid of things is the hardest for this packrat. Nonetheless, Son and Granddaughters will be getting more art supplies. To use some fabric, this summer I want to make some simple, functional quilts for charity. (I still can't "just get rid of it.") Ideas for using supplies are abundant. Time, energy and "just do it!" are not.

I really hope I manage to work on projects and keep hand stitching at least weekly, if not daily, but evidently writing is also cycling back into my psyche. I've spent the greater portion of the past two days reading about poetry forms, collecting poetry prompts, and word doodling. I hope there will be some results. Writing poetry (however good or bad) used to be as normal to me as breathing and I do miss it, but it's never been something I could force. It's more like letting it be free. The key to freeing it is to write (journal) every day. Not expecting a poem every day, but doing the writing to allow a poem to form as often as it will and accepting whatever shows up–partial poems (that's something!), rants, meanderings, essays, and even to-do lists.
---
I really hope to have something creative here soon. I'll try to post some recent TAST stitches within the week. I have been doing them. My spirit cloth-ing is going slowly. I'm still learning how to let the cloth lead, which is, in part, how I understand Jude's method. Again it's a matter of just doing something (stitching in this case) and let the creativity have free range.