Weaving In A Box
Weaving In A Box
I'm all caught up on blogs, except Jude's. There, I've only reached mid-April. Her posts are taking more time because I try to think about all she presents in her class posts. I go back to old blog posts, listen to audios, watch videos and sometimes go to related classes she mentions. And being the ADD person that I am, one thought leads to another tangentially related thought and then I don't have any more time for blogs that day if I want to get anything else done.
On April 1 she referred to warp and weft as "standing" and "the traveler." This is where my mind went with that. (Originally posted May 5 on her April 1 post)
What comes to mind while watching your Jude's video.
The loom is the Inn
Warp is the Innkeeper
Weft is the Traveler who goes in and out
Inns are often places where stories are told
In stories Warp can be as varied as Travelers, but is more often a solid, sturdy, simple Type
Weft can be anything from plain and sturdy to fancy and light.
Both Warp and Weft add to each other's stories, which can create new stories.
New stories might be/are what's woven.
Even the language of storytelling contains weave! Stories are woven. Characters, plot elements, themes weave in and out as a story progresses.
Story defines weave. Weave defines story. Weave=Story!!
Now I have a lot of, so far wordless, thoughts on where that takes me. I've always been a teller (and sometimes writer) of stories. Not the passed down kind, but figments of my own imagination. The past several years the increasing use of the word story had mostly confused me . I asked someone once and the answer confused me, too. But on Jude's blog, and connectedly on other ragmates' blogs, I finally began to get it. I still think it's a bit overused on social media (everything seems overdone on social media), but it's making sense in creativity.
Anyway, the weave=story, and I totally agree with Jude that sewing is a kind of weaving, weave=story/story=weave has started something bubbling up inside me. I don't know exactly what, at this point. I hope I'm able to nurture it enough to figure it out. The key seems to be the story connection. Somehow I want to, have to, learn to tell my stories in thread and fabric . . . maybe it's using the same elements. Really, that's what Jude does. She is the illustrator she wanted to be–and the story teller, too.
I really need to think a lot more on that . . . and to act on it!
Today I did a little "acting." After seeing all the things that can be used as looms, I thought "I can do that!" I decided to use my quarter inch strips and the first box I found, which was a soda box. I do NOT recommend a soda box. It's much to flimsy. and cutting the end as I did, it's just too small, too. I don't think I'd recommend fabric trimmings, either, although the biggest problem I had with them was probably due to the too small box. Nonetheless, I persevered.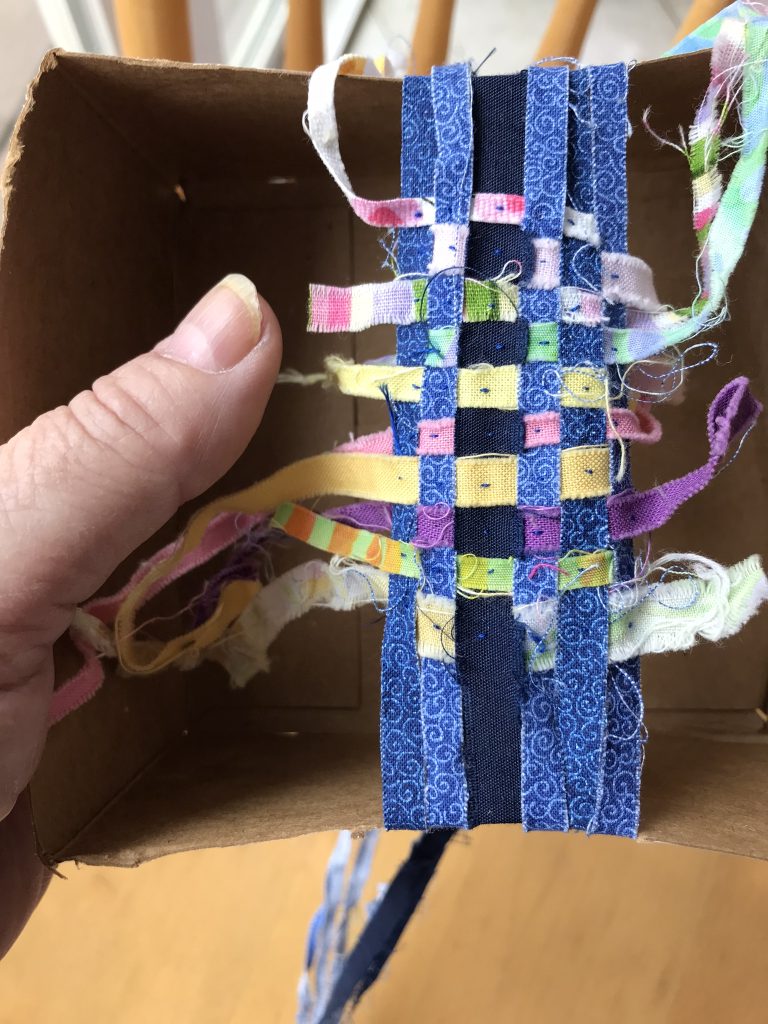 It didn't look like much still wrapped around the box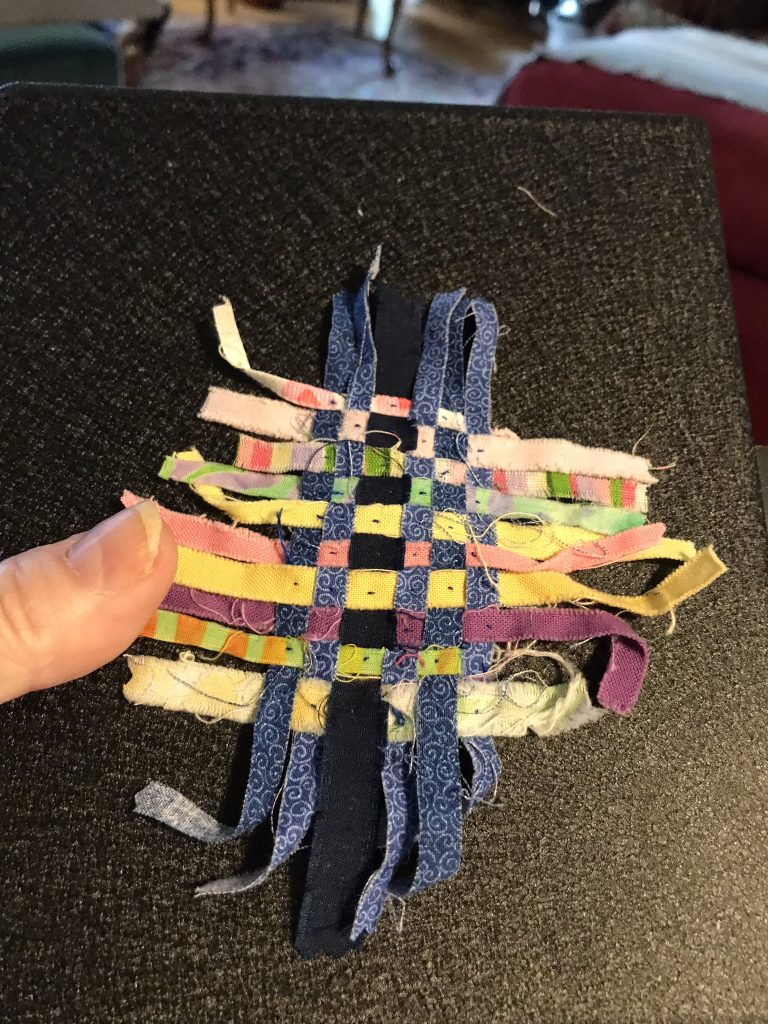 It's a little better here. I still like it better in person. I also like the stitch dots that show on the light colored fabric. Just discovered it also makes a nice mouse rest for the laptop. The blue strips are only slightly longer than my mouse.
I have always wanted to weave, to have a loom. About twenty years ago I nailed four strips of wood together and then pounded in finish nails all around it. It was essentially a large potholder loom. It made nice sized squares for an Afghan.
Also, at one time, Iqbal thought he would someday make a rug. So I have tried to figure out how to do that. It was always the notches or nails for the warp that stopped me from actually making one. Then, when Jude was explaining her bead loom, the lightbulb came on! I need to find some kind of spring thingy to separate the warp. Iqbal's no longer interested, but I still am.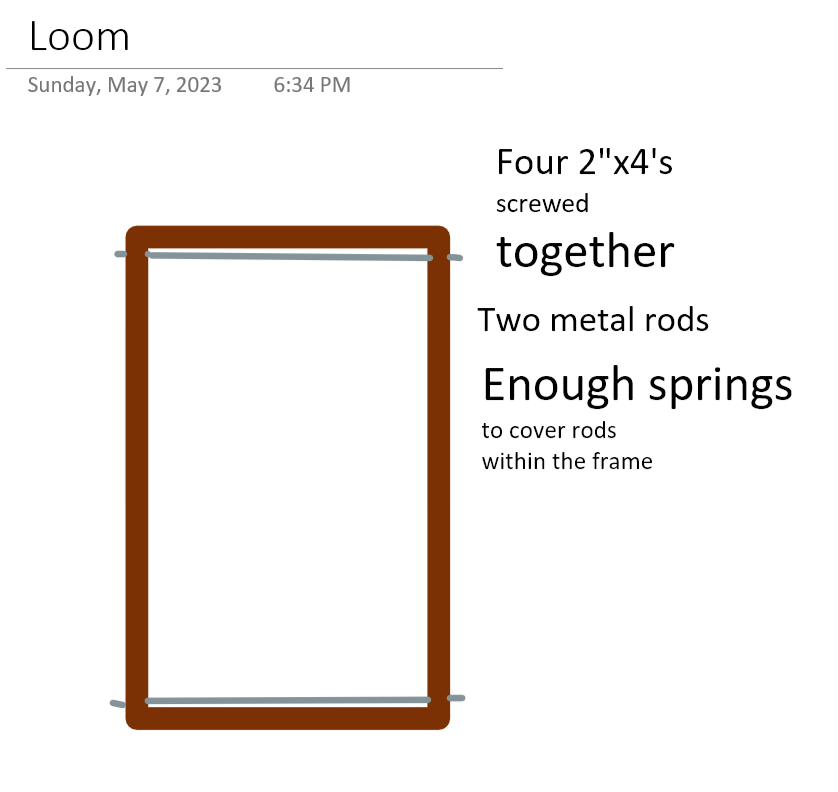 I imagine this loom would be good for any size. I remember seeing somewhere, a Native American woman weaving on something very similar. Women in India, too . . . or maybe it was men there. I like the idea of using four eight foot 2″x4″s. I'm guessing that would produce a blanket that was at least about seven feet square. (Oh, and what I didn't include in the diagram is feet of some kind. They'd be necessary for an eight foot loom to stand upright. Maybe A shaped braces.)
(The variations in type size in the above picture are because I don't write smoothly with a mouse. I'm rather amazed that OneNote can read my handwriting at all.)