It's Hot Outside
It's Hot Outside
And I'm cold because when the temps are above 90°, Iqbal needs the a/c on. It's not set too low the way most commercial places seem to be, but even 75° seems cold when you've been out in 90°. I don't understand how someone who grew up in India without a/c can't take any heat. Of course, he feels cold when outside temperatures fall below 65°-70°, too.
Work on the sewing room goes slowly. That's partly because I get distracted. Partly because I spend time trying to get things to be exactly the way I want whether it's possible or not–and if it's not, I get too frustrated to do anything for a while. However, the floor is 99% cleared.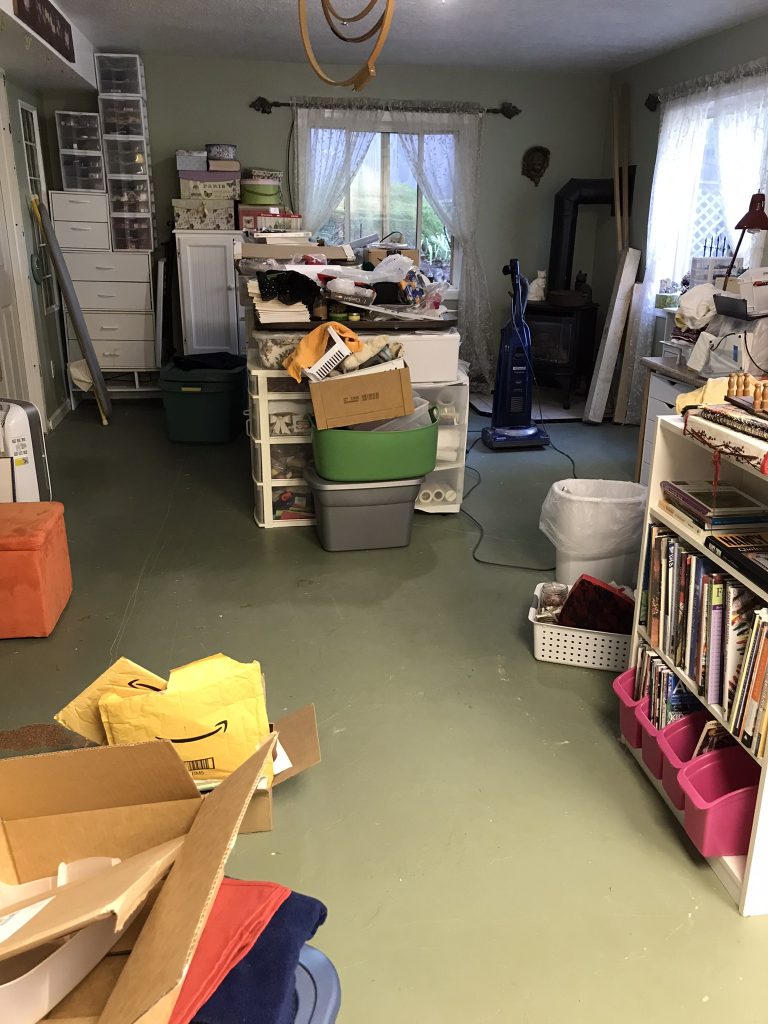 Now it's mostly just a matter of clearing off the table and re-clearing the sewing counter. Oh, yeah. I need to clear reorganize the sink counter, too. (behind me as I took this photo)

Back in May for GabCraft, my sister taught Kris and me to crochet. I already knew how to chain, so I learned double stitch. Debie has tried to teach me many times before and I've also tried to learn from books (and once was totally confused by a YouTube video). For whatever reason, I just never got it. I never understood this because I once made several crocheted flowers. I have no idea how. But in May the lightbulb finally turned on. At least for double and triple crochet. Maybe it was because I used cord and perle thread instead of yarn. For about a week after learning I made swatches that I undid and redid. That got boring, so I stopped.
Fast forward to last week when I was collecting all the yarn into one bin. I had little bags and baskets all over the place. Debie has given me 90% of the yarn I have. She'll buy some pretty yarn, but then not like the way it stitches out for one reason or another. I came upon a bag of four jumbo skeins of yarn that she had started making an afghan with. Upstairs it came, instead of into the bin. It sat on the couch until Friday. Actually it was Saturday early, early morning–about three a.m. "I can do this!" I thought to myself. It had about three or four rows of shell stitch that I couldn't make heads or tails of. So I texted Debie. She was awake, but I still didn't understand her explanations. (We were both tired and I have a feeling neither of us was exactly making sense.) I got to it first thing after I got up on Saturday and figured it out. I did it while watching a soccer game and all that evening while Iqbal watched his murder (true crime) shows, and last night, too. I extended the afghan from about two inches to about six inches.
Debie stopped by today and, of course, I showed it to her. I didn't figure it out, after all. Actually, I just totally misunderstood what the shell stitch is. I was doing granny square stitches. That's really okay. I wanted to learn new stitches anyway and Iqbal (who's getting the afghan) knows it's a practice afghan. So I will complete the current row and then actually read (gasp!) the shell stitch instructions. And I think I will do a bunch of different stitches, changing every four to six rows. If I don't get too frustrated.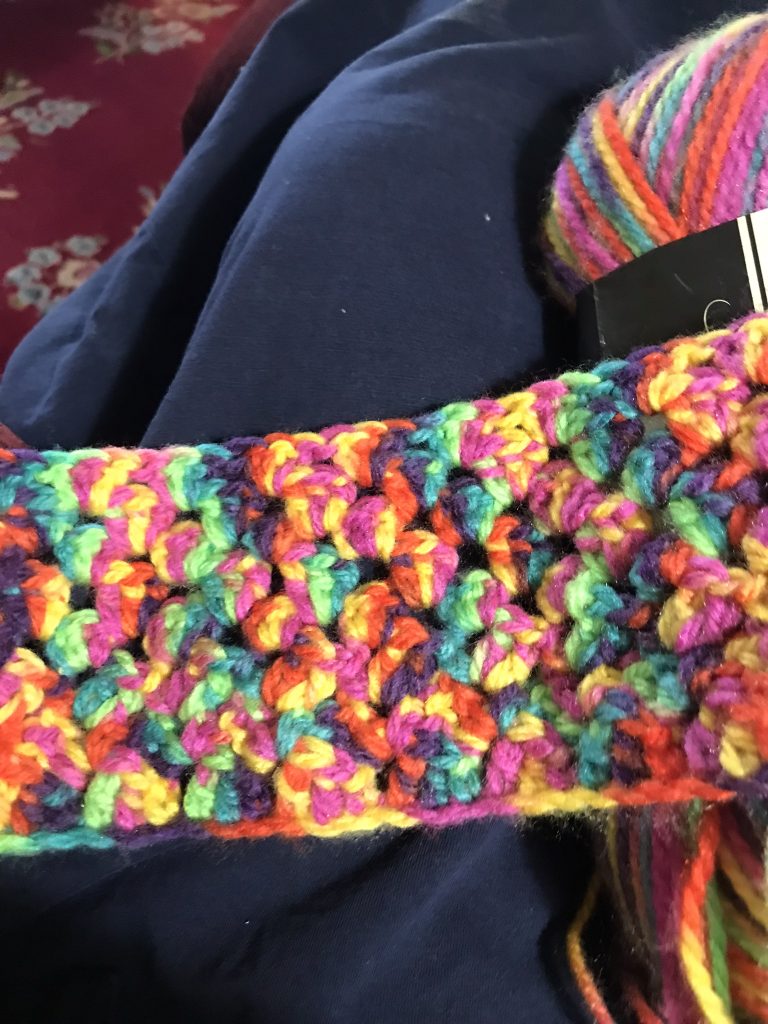 I also changed hooks last night, because it felt too tight for my liking. I figure proper tension will come with practice, but a larger hook helps. I think I added two or three more rows after this photo was taken.

(HA! With the tiny preview picture of my bars, I thought these shells were crocheted or embroidered!)
For July GabCraft we are learning macrame. I was pretty much all craft and no gab for this.
Many, many years ago, my little house in Kansas City had neither an eat-in kitchen nor a dining room. We had a dining table set up at the end of the living room next to the kitchen door. The living room furniture was arranged to separate the areas. What I really wanted, though, was a macrame curtain hanging behind the couch. I believe I even sketched out how I wanted it to look. We moved (to a house with the same floor plan, but with a dining area added to the kitchen) and as I had no time, I lost avid interest and never learned how to do it.
My house now has a dining area with the deck just outside. The whole wall is windows and a glass door. And a regular full height window just around the corner. It had ugly vertical blinds when we moved in. Later I hung some lovely floor length curtains. One day I took them down to wash them and never put them back. We decided we liked the light.
When Debie suggested macrame for this month, the first thing I thought of was that imagined curtain. Now, I'd like one on each of the windows on either side of the deck door and one in the window next to that wall. It will probably take a LOT of cording.

Talk about distractions. I need a macrame board and went to Amazon. I ordered my board. I also looked at wooden craft buttons. Then I started to look at storage ottomans and coffee tables. We're 90% decided on a beige ottoman. Because the ottoman is for my sewing/embroidery/crochet stuff that's in the living room, I looked at some small containers that would fit inside it, so that the small stuff wouldn't get lost. Then I remembered (not that I'd actually forgotten) that I want to cover our recliners. I've been thinking of canvas, so I looked at the cost of tarps. Nope. Then I went to fabric.com. Canvas was almost as expensive as the tarps and they're out of it anyway. A natural color denim also showed up in the search and that's a reasonable price. They're also out of that, but have a available date for it and none for the canvas. Not that I'd start sewing when it arrived if available now (or even when I do get it), but I do want to lighten my living room. Iqbal's recliner is a very worn/used blue velvet that doesn't match anything. My chair matches, but there's too much red in the room. I love dark red, but the carpet is mostly red and the couch and loveseat are mainly red. Beige will be a light relief.
And that's why I didn't get to work in the sewing room today. 🙃 (Kinda like my whole life goes.)