Sunset Search
Sunset Search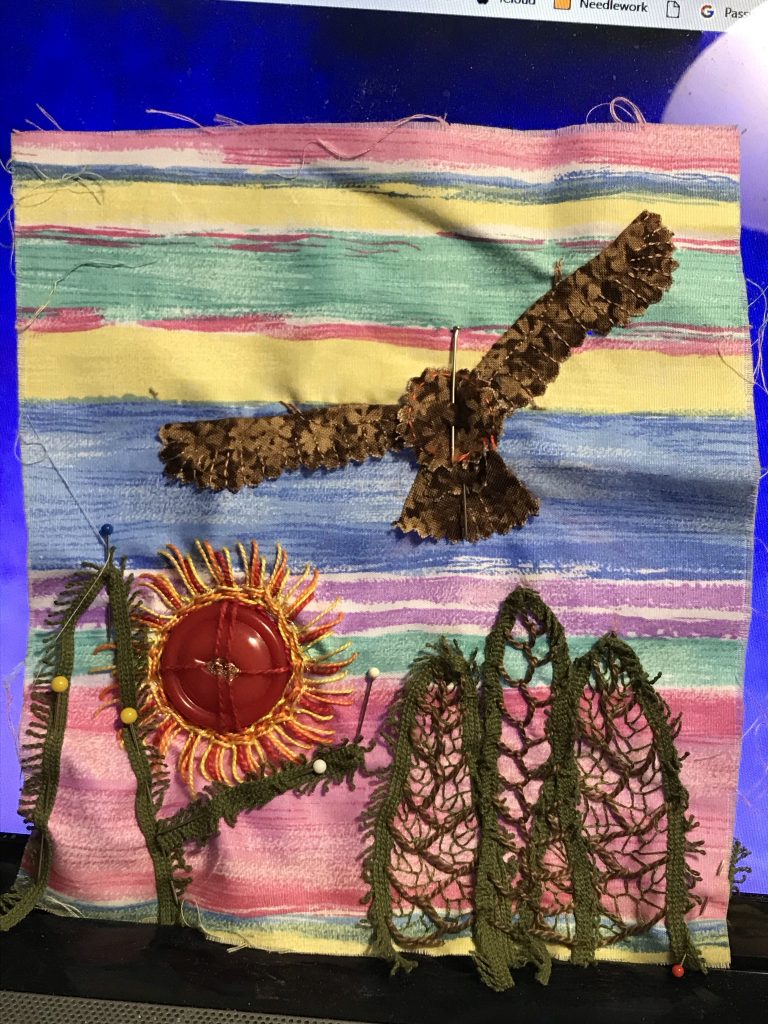 "Hunt" may have been a better word choice, but I like the alliteration "Search" provides.
The owl was done using Jude's skatching* method. Since I'm not great at drawing, I traced the outline of an owl onto the base cloth. The pencils I had on hand were colored art pencils. They are weird in that they faded away. Whatever color I chose. Except where I tried to erase. That I had to wash away with a damp (almost wet) cloth. So I went over the lines with basting, which was good since the lines were gone by the time I started to stitch. I trimmed the bottom edge of the wings against that baste stitching
The tops of the wings and the sides of the tail are traditionally appliqued. The head will be traditional all around. The rest is raw edge, cut with pinking shears. As I'd hoped, the pinked edge creates a perfect feather edge.
If I'd thought ahead, I'd have made hills for the sun to be setting behind. Maybe I can add some before I stitch down the last two trees. The thing is, this didn't start out to be anything more than playing with a button and buttonhole stitch. It was after I'd stitched it that I thought it looked like a sunset.
---
Iqbal loves everything I make. It's very encouraging and great for my self esteem. (Not particularly useful when I need critical advice.) He already has at least five or six of my fabric art pieces in his office. He's at the point where he has to cover something else to add more, but he wants to add more anyway. (Like, everything!) I did open up some wall space in the exercise corner. Maybe he could hang things there.
---
I need to put solar tubes into my living room. I wouldn't mind at least one in the studio, too, if they would/could add one to the outside down to the window (since it's the lower level with no access to the roof). Don't know if I'll ever get any, but it would be nice. These rooms get sunlight only in the early morning. I'd love to be a morning person, but fact is I'm not.
---
*Jude's doing maintenance, so the link (which is not specific, anyway) may not work. Not sure when she needs to shut down.