TAST Week 5 & More
TAST Week 5 & More
The stitches for this week were feather stitch and feather and chain stitch. (Stitch links go to Sharon's Stitch Dictionary on Pintangle.)
I've been doing the TAST stitches on an old doodle cloth I started with TAST a few yeas ago. I don't really have a project for TAST this year and at some point last fall I decided I want to fill this cloth as densely as possible.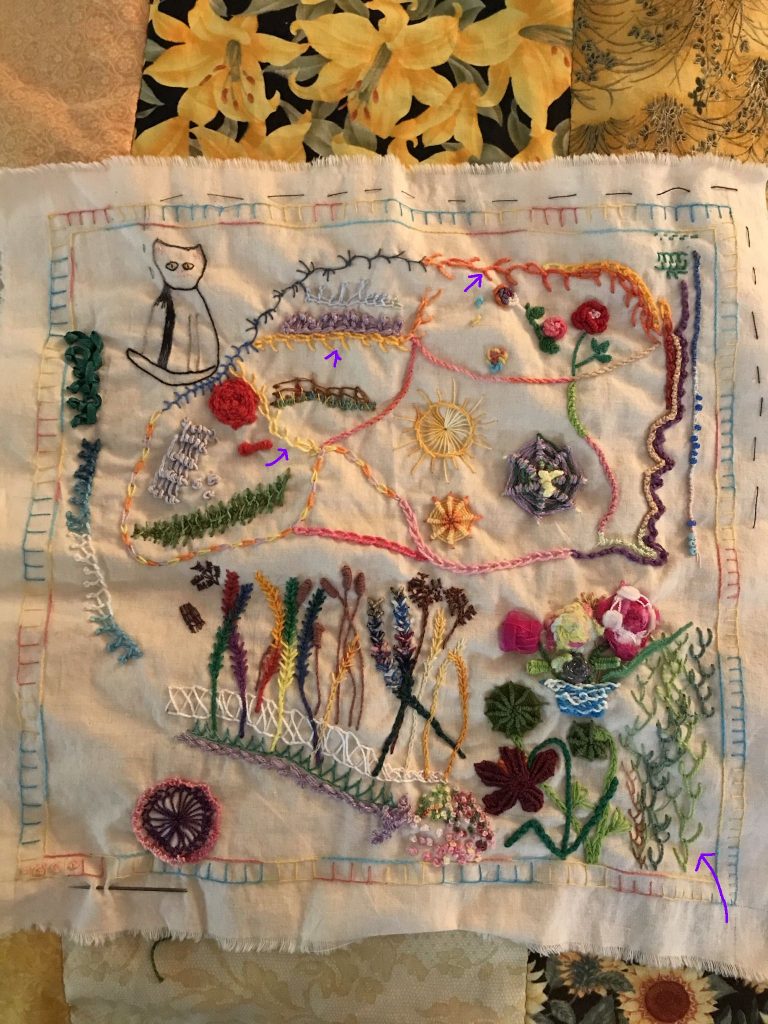 The feather stitches are in the lower right corner. The dark orange stitches around the flowers in the top right, the light orange stitches just below and to the left (under the lavender stitches) and the yellow stitches below the field fence next to the red woven wheel, are all the feather chain stitch. (I added the purple arrows to show where more clearly.)
Mostly this week, I've been working in the bottom right corner. All of the flowers were done previously. In addition to the feather stitches, I added chain, stem, and Portuguese knotted stem stitch stems; Portuguese knotted stem, detached chain and closed base needlewoven picot leaves; a reverse buttonhole bar vase (with multiple rows in two colors); a pistil stitch flower (between the red & white and yellow flowers); and the French knots trailing in from the other group of flowers/grasses.
---
I'm having an issue with my photos not being full size. I made the photo clickable, but it doesn't seem any larger to me. It seems when my phone uploaded them to the cloud today, it scaled to half size, but WP won' let me upload full size anyway. I'll work on adjusting for those issues sometime this (or next) week. Meanwhile, if you want a closer look, CTRL + on the clicked image works okay.