Grace has happy light! No, really! She does! She caught it in a photo of her sunflower.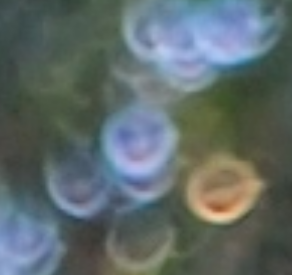 This is an un-retouched, slightly enlarged, section of her photo. This is the sunlight coming through the treetops. Go to her post of 8/6 and click on and enlarge the beautiful sunflower photo. So many of those little orbs of sunlight through the treetops at the top of the photo have smiley faces! I know that sunlight makes me happy, but I never before thought the sunlight itself could be happy.
This is a sharpened version of the capture above: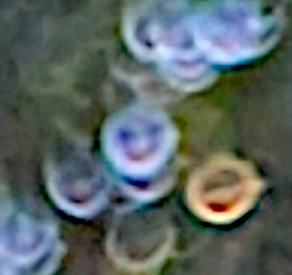 Blue eyes and red lips!! Pink cheeks on some!! I did NOT add any color here.
I looked among my photos for a picture with the same lighting through trees. I don't have much on my laptop, but I found one. I don't think my camera has as many pixels as Grace's. And/or maybe the heat is also a factor. Whatever, this is the best I could find.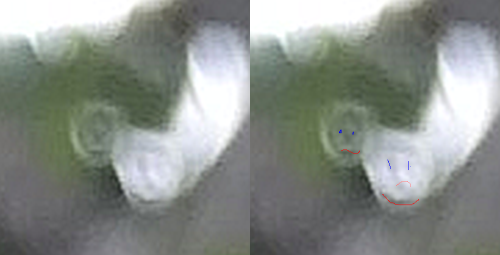 Most of the orbs I saw on my few photos like more like this ◉ than like this 🙂. I can see the little faces I drew in, but they aren't exactly obvious.
Well, pareidolia or not, it makes me happy to think that sunlight is full of smiley faces.
Sunshine on my shoulders makes me happy
Sunshine in my eyes can make me cry
Sunshine on the water looks so lovely
Sunshine almost always makes me high
~John Denver