It was the heat!
It was the heat!
I haven't really lost all my stamina–only in over 80° heat. Today was in the 70°s and I worked outside for four hours. I could have continued longer if I'd started earlier and were more organized. I think I will work outside tomorrow if I haven't pulled my back. (The hardest thing I did was water all my large pot garden, but sometimes that's all it takes.) It's so amazing what working outside does for my mental state.
Besides watering, I also managed to dig out 16 holly bushes from various pots and gardens. There are two or three bigger ones that are going to require untangling their roots from the intended plant's roots–rose bushes and a berry bush whose name escapes me at the moment. The holly bushes are going to my sister who wants to put them along the side street side of her corner lot. They grow fairly fast, so she should have a pretty hedge in two or three years. And if these aren't enough, I'm sure I'll have more next year. Things I'll always have in my garden whether I want them or not: walnut trees, holly trees/bushes, yellow maple trees, Japanese maple trees, laurel trees, and needle evergreen trees. I'm not sure what all the various needle trees are around me. One is a cedar (northeast corner) and one is a redwood (southwest corner), planted by neighbors on each side. There are at least two other kinds all over the hillside–one has a scraggily silhouette and the other a more Christmas tree shape. The squirrels think my pots and gardens are the perfect storage for nuts, seeds, and berries, and the laurel and maples are simply prolific seeders.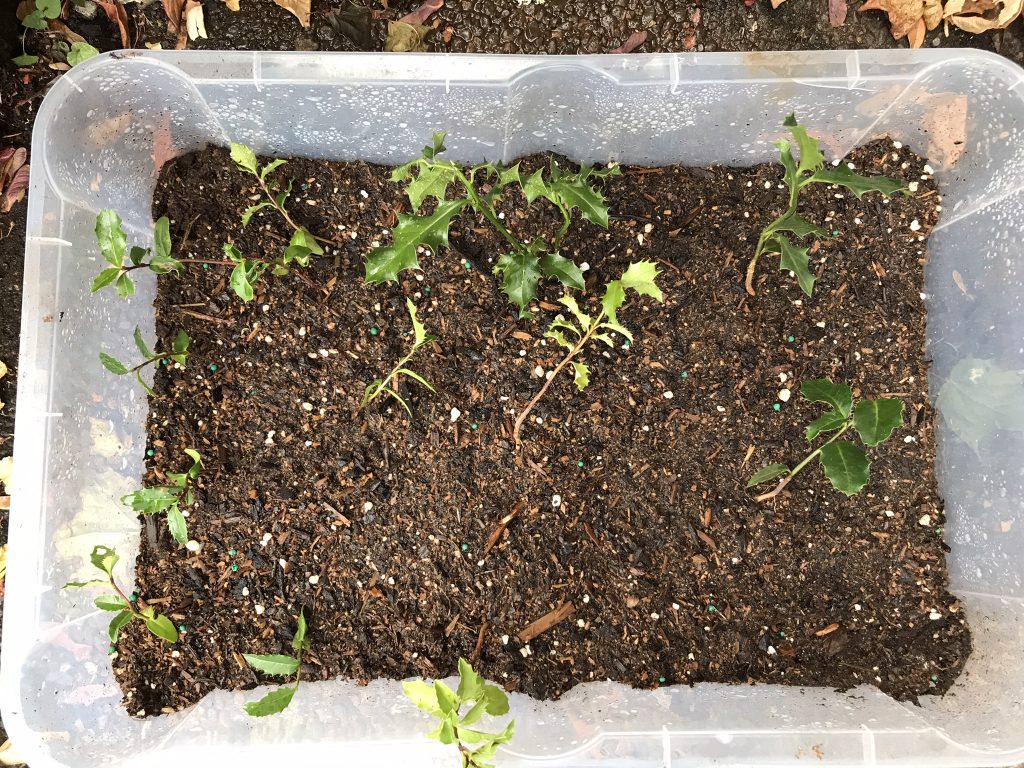 Behind the three pots you can see the candytuft I planted (between the pots and the sedum on the wall). It's a bit scraggily, but hopefully it'll start to fill out next year. About two plants to the left there are two 6″ to 8″ maple trees–one Japanese & one yellow–growing side by side. I wonder of they would grow together if left to grow. Above the pots is a needle tree about 8″ to 10″ tall.
Because I was working outside, I forgot to put in another load of laundry. I need to do a load now.