When I'm too tired to do anything else, I sit at my computer and play with GIMP. The latter part of this past week was a bit stressful and I hadn't been sleeping well, ergo, I have been playing with GIMP this week. (Lots of pictures.)
My studio journal class also began this week (thankfully, before I ended up stressed out and tired). Since I learned to use GIMP I have thought of how to translate some of what I come up with into thread and fabric. Lesson one in the journal class has an exercise of translating a picture into stitches. It's not a how-to lesson, just and exercise to let your imagination get to work. It worked for me, though. Now, instead of asking myself " how do I make this a fabric piece?" I am thinking more specifically "What stitches will create this same effect?" or "How would I chop this up into quilt pieces?"
I think my favorite parts of GIMP are the modes and the fractals. My play this week was using both of those. I started by making some simple stripes using gradient on linear and triangular wave repeat.
This (on grain extract mode):
over this (on normal mode):
equals this:
Just playing with this final image I came up with two more.
In this one I selected some of the colors and beveled them.
href="/Blogs/media/blogs/fancys/hilitedbeveledselectareas.jpg?mtime=1396310498">
This could possibly be embroidery on the basic plaid. I'm not really sure about that, however. Just a thought.
In this one I desaturated it and cropped 24 sections to which I added color in increments of 10 from left to right on the color bar.
Voilà! Spools of thread
I did a whole bunch more with other stripes. This gif has them all (almost), but if you want to see them clearly, follow the link (click the gif). Something about saving them as an animated gif made some of them not look right. And they all look better full size than the thumbnail size, too, but still not as good as in GIMP. (I don't know why.)
The basic stripes in these are labeled and because GIMP starts at the bottom and I put them at the top, they are last in the gif.
All in all, these make me think more of fabric patterns than designs for embroidery or quilting, though who knows what I might think at another time. (Hmmm, maybe I should make CD pockets in my journal for all the GIMP stuff..)
Then I started with the fractals. The bad news is that I was showing a lot of these to my mom and had several xcf files open and as I was closing them, I was clicking "Don't Save" because the only thing I had changed was visibility of layers....except for the most recent. I thought I'd saved it first, but I hadn't. I lost some lovely fractals. I've tried labeling them, but with only limited success. The good thing is that I've learned how to save the fractals in the program so that I can recreate them in the future (only, not the ones I lost until I can recreate them to save).
These are my favorites.
This looks like a tree to me. It's potentially piece/quiltable with perhaps the tree itself embroidered or embellished in the branches.
This is a variation of the tree to which I've added a "sun."
These remind me of primroses.
This is the "Hemp" fractal that was already in the program. I played with the color and as it is here it makes me think of a palm tree on a very hot day. All but the smallest parts of this should piece nicely. I love the gradations of color.
This has another fractal (it looks like) dodged over it. The pink "flowers" are very embroiderable, I think.
I think this is the same basic fractal was above, but with more permutations, though I'm not certain. I like the metallic look of this variation.
This one is the same as above with as much background removed as possible. I am currently working on this one to create stitches to embroider.
This is a simple spiral fractal that I tiled. I thought random size and shape of the tiles might help, but it would just be too many pieces to quilt. I'm not that fond of piecing. So I made the tiles much larger and regular.
There were so many colors that I decided to smooth them out a bit. Tiling pretty much destroyed the spiral part, so I readded it on another layer. It's interesting, but not really what I wanted, so it's still a maybe. But it goes into the journal.
This one and the two below are just variations of the same thing. It looks like a doily to me, but it could also be a frame for a motif
I tried to get a pink shade by using the pastel gradient. It looks washed out to me, so I darkened it to the one above.
This was the original fractal and probably still my favorite of these.
This is just pretty and I want it to be something, but I haven't figured out what. I'm sure I'll figure something out one day.
I call this one "4 swords." I think you can see why. I think I might turn it 90º... OH MY!!!!  I just got some great ideas, looking at it again! Anyway, something about it reminds me of knights and chivalry.
Below are seven pairs of butterfly wings. I have a lot more. I tried something different here. I deleted everything but the wing shapes of the original fractal. On top of that I added a pattern layer. I finally found a use for some of those ugly metal bumps in the patterns file. Both the color and the pattern affected the outcome of changing the modes.
This one interests me because I have a dotted fabric this color. Some kind of stuffed applique seems right... maybe with the edges embroidered.
Not sure how one would use this, but it seems easily embroiderable.
These two green ones (above and below) have a bamboo (? 12_003)  pattern over them. Different modes are the only diffference.  What immediately came to my mind when I saw these (and you need to see the larger versions, which Photobucked cut down from what I have) --What I immediately saw was beading!  (maybe the pattern is beads) I don't even do beading except that I've sewn a few on some of my embroidery. Still, the bamboo makes it look like beads, to me. I like the top one better, but that might be harder to do, so if I ever do this, it'll probably be the one below.
This is another one you need to look at the larger view. This is another pattern that says "beads" to me.
This one just looks fun. It is from some large picture I put into the GIMP patterns folder. It has a collage-y effect.
This pattern might be mud. I thought it was an interesting effect and potentially it could be embroidered.
Remember this one?
I have been working on creating stitches for it. I tested part of what I have.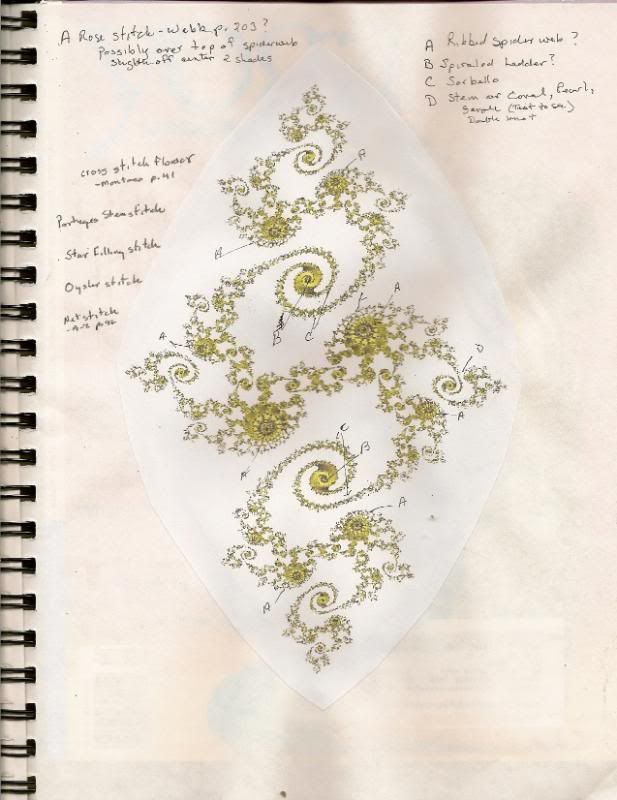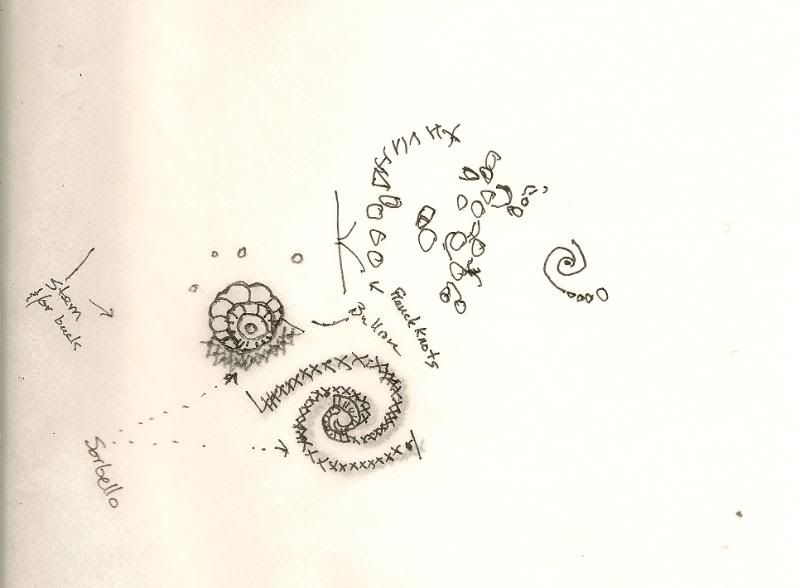 1 comment
Hey, there, Faith,
I gave this image from your Photobucket site a thumbs up on facebook and an artist friend of mine said "fractals" and I said, oh, yeah. So it was great to see your post so I could tell him,
"yes, indeed, fractals". And I too play with GIMP to reduce stress, it really helps. :-) I just bought a book on fractals, gotta go play with it soon.
02/22/11 @ 14:13