So far, I am managing to keep up with TAST!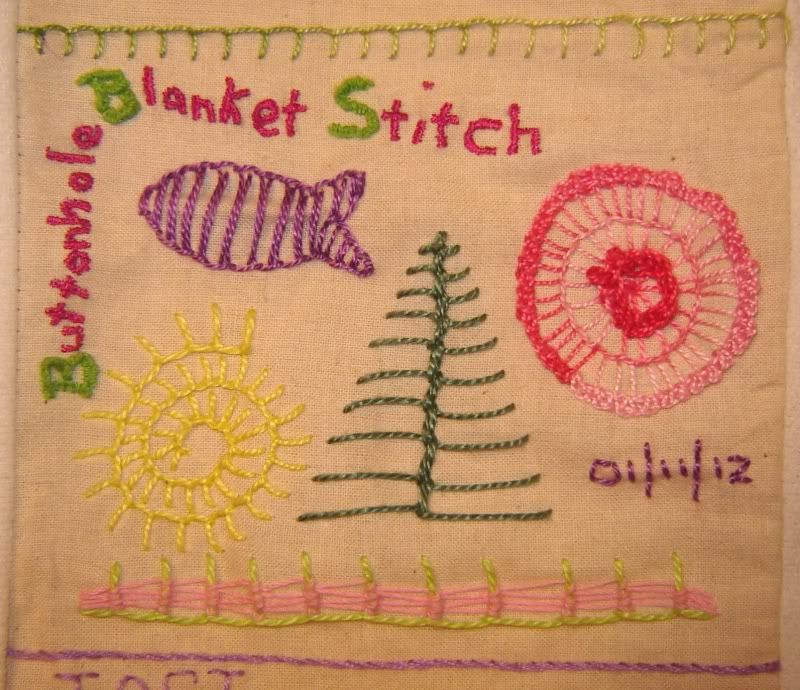 For full size click on picture or  here.
I put this one in a hoop, but I still have trouble with tension. I feel like I'm missing something, but I don't know what. Everything except the lower case letters are perle 8.
Pink and green: Just basic blanket stitch in green with the pink woven in the way it's done for spiderweb stitch.
Yellow: Basic stitch again, but done in a spiral.
Green: Mirror columns of stitch with increasing length. This is where I sense I'm missing something. I was thinking of some overlapping mirrored rows to fill it in, perhaps. Or, I could do what I did with the pink and green.
Variegated pink: Buttonhole stitch concentric circles. Raised cup buttonhole in the center and detached buttonhole on the outer circle. This reminds me of a doily. The center looks wonky in the photo. I don't know why. It actually worked out OK. The detatched stitch could be added to each row to make an interesting flower.
Purple: Mirror rows with the spine of the stitch on the outer edge. Next time I would not go to the spine of the opposite row of stitches, or I would fill it closely, so it ended up solid. Maybe I'll think of something else entirely.
Lettering: Old fashioned buttonhole stitched closely. I actually wrote these words in pencil first... And still they are crooked!! This stitch fills almost like satin stitch, but has an interesting texture. The capital letters made it clear that the thread would be too much for the smaller letters, so I did those in machine embroidery thread. I had my glasses on, which is usually enough, but I could have used a magnifier, too.
Date is in backstitch.
Top edge is basic buttonhole/blanket stitch.
I might play with this stitch some more tonight. I'm kind of sick of the computer right now.
Sharon's post on PinTangle is here. Check it out to see what others have done with this stitch.