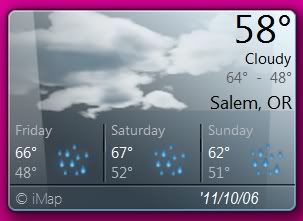 Oh, how I would love to be unaffected by this.  Alas, I woke up with the following:
Like fog, it creeps in 
on little cat feet, 
graying life, 
taking away crisp edges.
But this cat has claws
and teeth to
scratch and bite.
No soothing purr.
It is a constant hiss
with no respite
but sleep which is
slow to come and 
never quite leaves.
A constant hiss.
Some think they know,
who've never met 
this beast, never
been devoured.
They say they tamed it.
Now it purrs.
Theirs was never the wild
beast who will not be tamed, 
the cat with 
teeth and claws and hiss, 
the cat unable to purr.
This is uneditied. Not really good writing, though I hope to be able to polish it up a bit. I love writing poetry when it comes to me, but I never really meet the standards of the kind of poetry I like to read. I'm a very harsh poetry critic. What I want/need to do is figure out why it isn't what I like. Maybe then I can make it better. I learned a bit in a lit class I took in 2003, but it isn't enough.
Feel free to comment and/or critique.