Ever since I found all the embroidery sites just over a year ago, I have been looking for a particular UFO that I have. This is the reason I thought I didn't like embroidery. Had I known more about embroidery 35 years ago when I got this kit, perhaps I would have done a lot more... and finished this one!
(You can click on all the pictures to see larger versions.)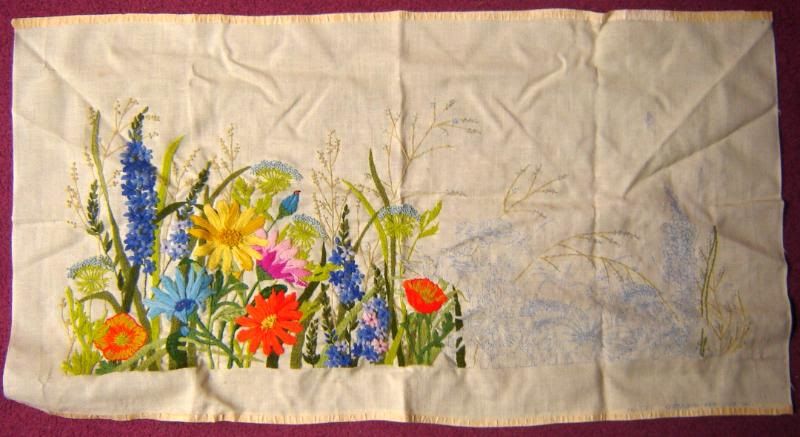 Fortunately, I still think it's a pretty picture, so I plan to finish it.
Did you catch that I have been looking for this for over a year? Honestly, it's been a hit or miss search when I would think about it. This morning, however, I determined I was going to find it TODAY!
Moving is not  a practical thing for disorganized people such as myself.  I moved twice in two years and thought I had finally got everything unpacked that I wanted unpacked. Yeah, right.  I spent all my day looking. In the process I found other things that had not been unpacked. They were in boxes with other things that I didn't need unpacked, just stored (seasonal and other seldom used items).  One box was all needlework! It was in little satchels that I (or my husband) thought were empty.  I think I emptied three boxes.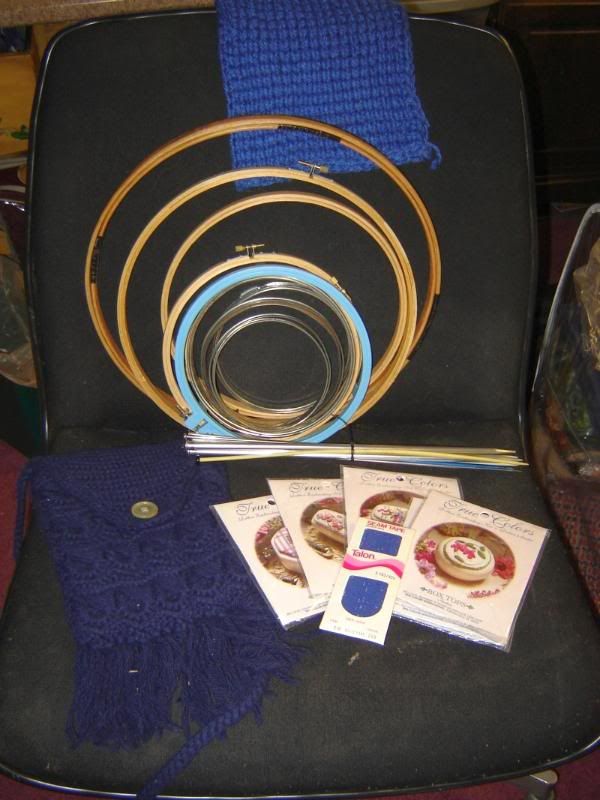 Look at what's in the back of the chair!!! And I went out and bought a hoop. 
Those are knitting needles in front of the hoops.  The blue hanging over the back of the chair is a piece of practice knitting (probably machine knit). I think it will be useful for something.  The fringy blue is a crocheted handbag my sister made for me. It matches a crocheted cape someone else gave to me. The packet of blue is some lace. The other packets are embroidery kits -- box lids. I dont have the boxes, but I imagine I could use them for something.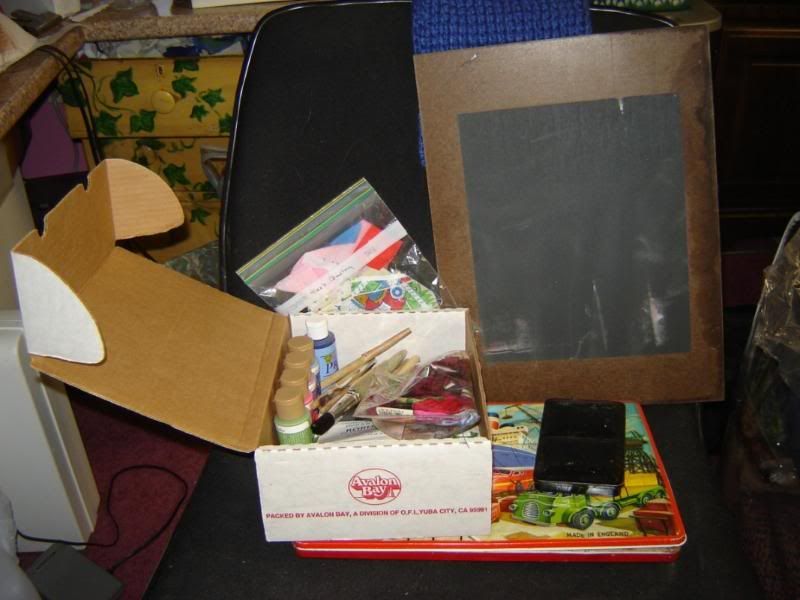 Not a lot of needlework here. The thing that looks like a chalk board is actually a quilting tool. Long ago I took a quilting class and we used this to hold or fabric to draw the appliqué shapes. The black part is very fine sand paper, so it grips the fabric so it doesn't slide around when drawing on it.
The bag next to that says "Alex's Quilting." When he was about 10 he wanted to learn. He found it too boring, though. Either that or getting his stitches small enough was frustrating. If he ever wants to learn again, I'll let him use a machine.  Probably should have back then.
The cardboard box in front has paint and brushes for stenciling. I did a lot of that in one of my houses. There is also a small bag od DMC floss in the box. 
 Below and under that box are some old watercolors -- something I'm a lot more likely to use, now (thank you Sharonb!).
More!! There are two name tags from different banks I worked at. Under the top name tag is a book mark stamp kit. At the right is a box of stamps. The black stamps inside are ones I found today. The other stamps I found today are in the bottom box on the left. The top box has stencils, but I don't see at least one I know I had.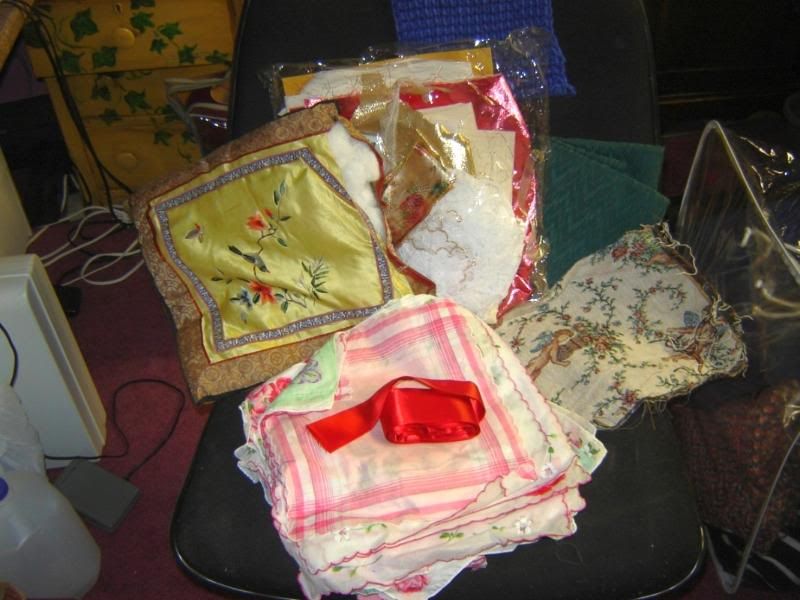 These are FUFO's -- forgotten unfinished objects.  In front are handkerchiefs for a quilt. Turned out to be too much pink for my mom, for whom I was making it. Her eyes lit up when I said I found it, though, so I think I'll look for a complimentary green fabric for the back. To the left is an embroidered pillow. I think it's silk and I think it's Chinese, but have no verification. It was given to me me by someone long ago.  It needs mending.  Next to that is a bag of lamé, lace and muslin. Years ago I made an angel doll for my sister. These are leftovers -- enough for another doll or two! On the right is some brocade and tapestry fabric. I made a pillow of them (angels on front, green on back) and apparently intended to make another.
You can see a bit of a large bag next to the chair. It held a king sized comforter and I use it to hold my projects. Adding these four filled it completely and a couple are elsewhere because they are too big or I have been working on them.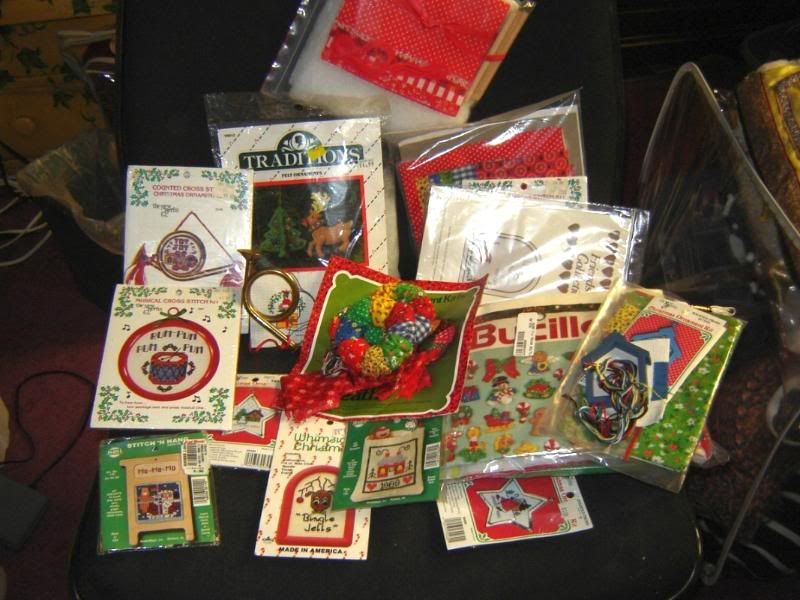 Besides the satchel that held the field of flowers embroidery, there was a satchel of Christmas crafts. Mostly they were little cross stitch items. There is also a bag of felt ornaments, the fabric wreaths on top and at least one I have no idea because I don't see a picture or instructions!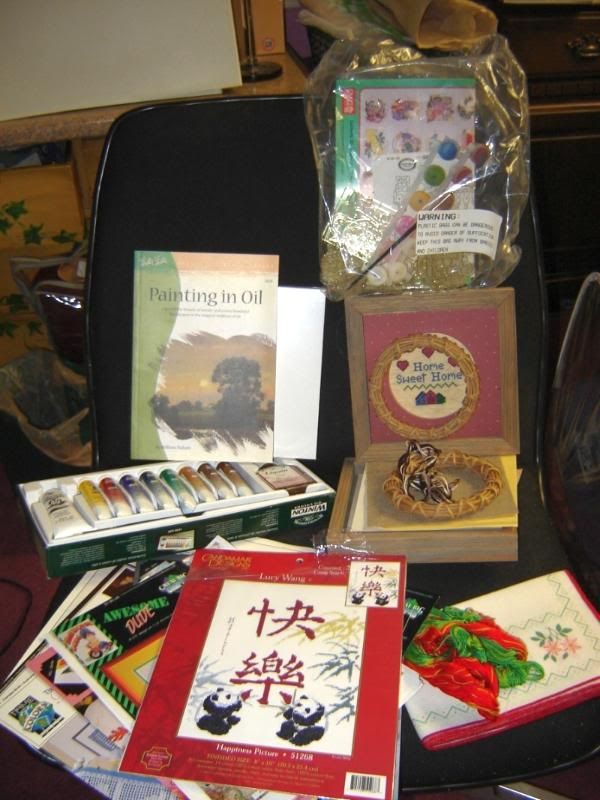 There are a couple of the Christmas items here. The package on top is part of a kit of plastic "stained glass" ornaments. Kitschy, but they look OK on the tree, so I may finish the rest of them. At the bottem right are placemats with a poinsettia design to be embroidered.
Between the two Christmas items are two different "home, sweet home" embroidered wreaths with frames. One is about 90% done. Not Christmas and I want to get them done and hang them somewhere.
Top left... Ooooo la la!  Oil paints, a book and two canvases. When am I going to find the time???  I hope the paint is still viable.
Bottom left is cross stitch charts -- except the top one that I thought was a chart when I photographed it, but when putting it away, I saw it was a kit. Happiness is exactly what I felt at that discovery.
I found this in the bag with the hankies.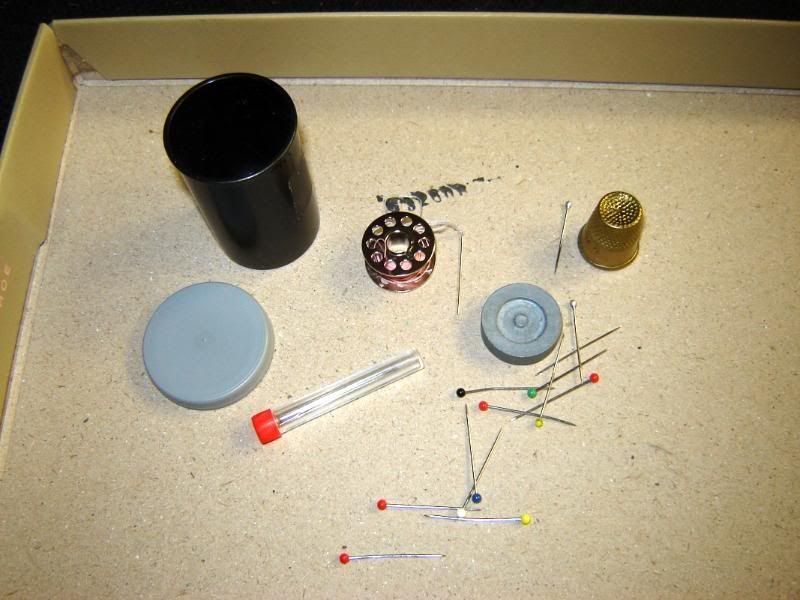 This is what was inside.   The round metal thing that looks like a wheel is part of a tool for pounding snaps or medium grommets into your project.
I knew I had a thimble somewhere!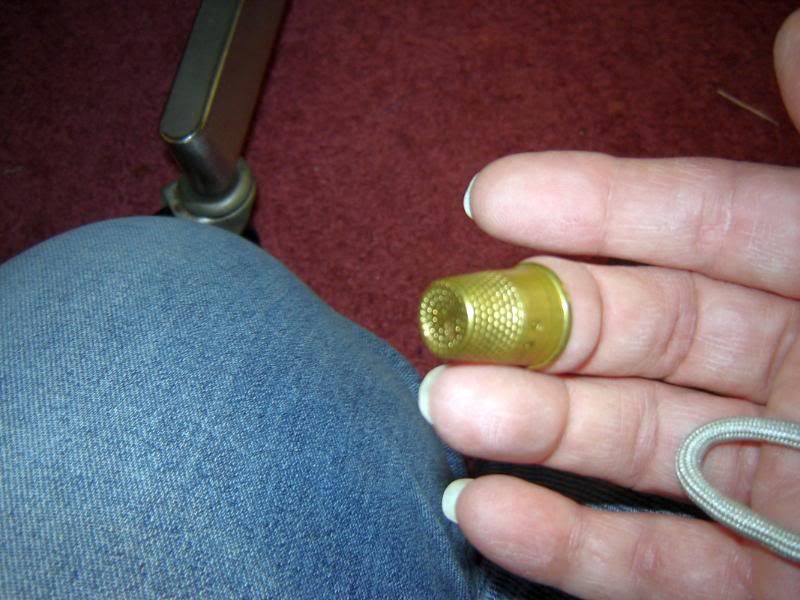 Looks (and feels) like my fingers got fat along with the rest of me.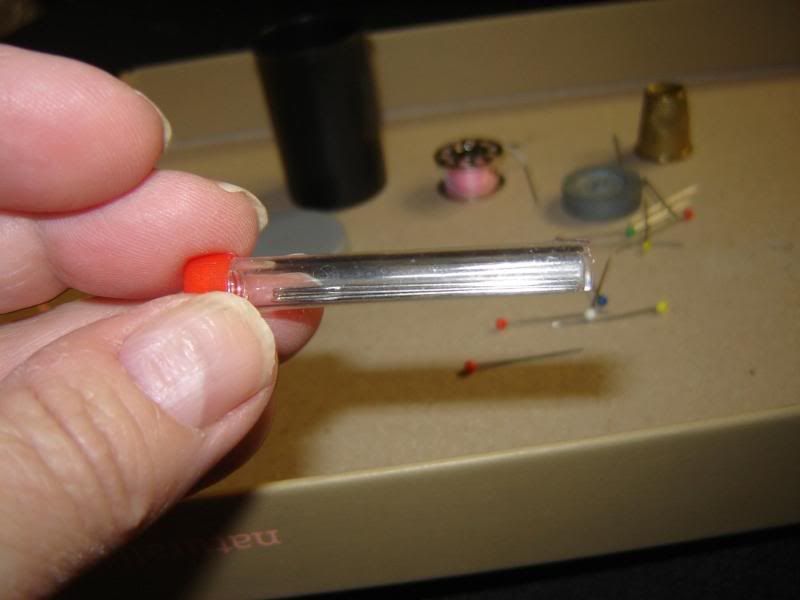 This tiny bottle contains three embroidery needles. I thought I'd found all my needles, but there are several in various projects. If you look hard at the first photo of the contents of the film case, you can see I also found two quilting needles.
So that was my day.  My sewing room (which is actually the center of the family room) is still a big mess...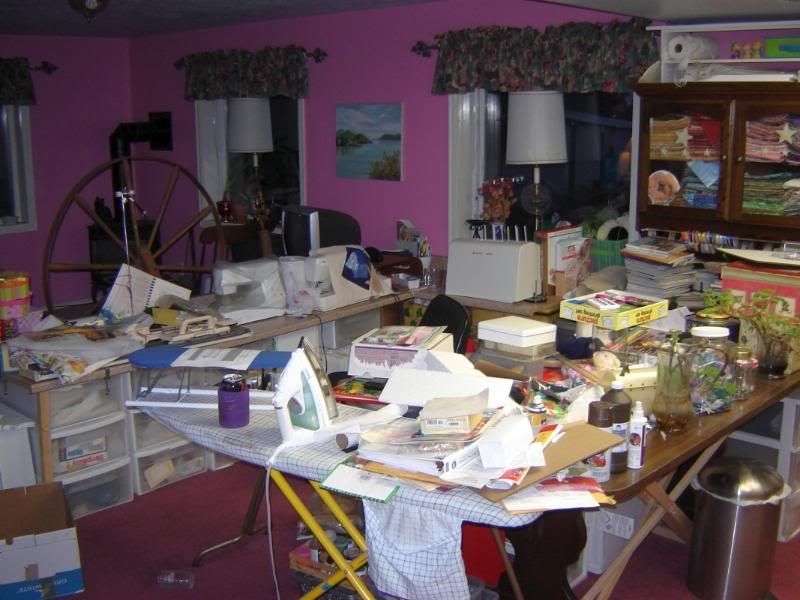 Every surface is covered. Remarkably, most of the rest of the family room (beyond the wheel, left & behind the photographer and to the right) is pretty neat. Mom vacuumed yesterday or the day before, so there isn't even much dog/cat hair around.  I'm showing this because, I have to admit, I appreciate it when others show their "well used" studios.
If I remember, I might have a post later this week about my "studio" and my stash. I might even clean it up and take new photos! Right now, I need to decide whether I want to read or work on some stitching.